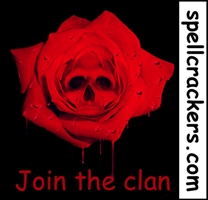 Isn't This one of the coolest badges you've ever seen? Click on it to find out more.
I just love the Spellcrackers.com series - featuring Genny Taylor, the half- fae all "other" tough spellcracker. I've blogged about this series before (because I'm obsessed!) and right at the moment, the first book is available in the U.S. (second to come in November of 2011). If you're like me and cannot wait, the first two are availabe right now in the U.K. (The Book Depository is our friend) and the third will be out in November (UK release).
books 4,5,&6 are "provisional" titles, not yet published. I'm posting about this now because November is coming up and I'm looking forward to obtaining a U.K. copy of The Bitter Seed of Magic.
I really love having access to the internet. If it hadn't have been for this, there are many books that I might never have read - such as Suzanne McLeod's

*

novels, Vicki Pettersson's Zodiac series

**

, Kalayna Price's new book (The Grave Witch), Jackie Kessler's novels

***

, Rachel Vincent's Stray and of course Julie Campbell's novels and shorts

****

(which really need to be published for the masses!). One time I had a small taste of a novel about witches on a very strange planet (riding on elephants, standing on a turtle moving in space...) and could never find it in the bookstores around here. I ended up looking it up on line and found the treasure trove of Terry Pratchett's books. In fact, his were my very first international book buy.
There are a lot of other authors that I read and love to find books by, but of course those are writers that I've discovered IN the bookstore (

Lilith Saintcrow, Patricia Briggs, Ilona Andrews, Devon Monk, Ann Aguirre.

..).
Some Sweet things about some of these writers...
*
Suzanne McLeod
had always been very receptive and warm from my first "fangirly" e-mail to her. She's been a very sweet book fairy to me also, exposing me to a few books that I wouldn't have been able to get over here. and sharing books that she had a feeling I would enjoy. She's also put up with some epic e-mails from me, taking the time to answer them back. Even though we've never met in person and live an ocean away from each other, I consider her a friend. It's Win-Win - great writer, and wonderful person, and she's got a loyal fan with me. LFF = loyal forever fan. *g*
** Vicki Petterson -
months and months before her first Zodiac novel was published, back in 2007, I was between good books and very bored with what was available. There was not a lot of urban fantasy being published at this time. In fact, I think the term was just beginning to be used, and not by everyone - not like today. Anyway I chanced on her website and wrote to her, not really expecting an answer, asking about what Scent of Shadows was going to be about. I'd seen the title, but not much else. She took the time and the chance to e-mail me the first two chapters, just so I could get a taste of her work. It was great! and I've never forgotten that she was willing to share, before publication, her work with a complete stranger. Of course, she won my loyalty - and since she is also such a wonderful writer, I've bought every single one of her books (

except the last one, which I'll buy ASAP

).
*** Jackie Kessler's

Helle's Belles
was the very first online book contest that I ever won. She even sent a phone thong

(it really resembles a thong, only shaped for a cell phone - Kinky!

) This was way back in 2006/07. I remember loving that her character was one of the first unapologetic characters I've ever read...Usually the succubus, or demons from hell read a bit sad and sorry for what they are - not Jezebel in Helle's *Belles! Loved it.
**** Julie Campbell
was the very first person to ever leave a comment on my first blog from long ago (2006, I think). Not only did she leave a comment, but she answered (and still does) any web-based questions I had without making me feel foolish. Not only THAT, but she also shares epic e-mail receivership (with Suzanne) and when I'm frustrated or feeling ranty, she'll send me funny pics and jokes. She's also been a bit of a book fairy to me - with published books, and I've been priviledged to read some of her in progress works. Wonderful person, wonderful writer and I hope she get's picked up by publishing house, or is able to get her work in print. She's got a great imagination, able to write in a few genres.
I'm always left with a good feeling when an author takes the time to respond to an e-mail from me. I know that there are many fans that write to writers - they probably get tons of mail and e-mails, so I appreciate when an author takes the time to respond. Another thing about this, is that I've been rather shy for my whole life. I used to be extremely shy, almost clinically so, but as I get older, it's gotten a little better; even so, usually in the back of my mind is the thought that no one could possibly be interested in my opinion - either that or whatever I have to say has already been said many times over to an author. There's been a few times that I took the plunge and wrote to an author to say I really enjoyed a book of theirs that I haven't heard back. I always end up feeling that I'm being too forward, no one cares, it's all been done before - hell, I couldn't even tell anyone why I bothered to even start a blog to post about books, and another to vent a bit. So I'm always pleasantly surprised when I get comments and e-mails back.
Karen Mahoney, Stacia Kane, Caroline Crane, Kelly Gay, and Kelly Meding are some other authors that have taken the time to acknowledge an e-mail (

along with the above ladies

) and I just hope writers in general realize how much a person like me appreciates the exchange. I only write to a writer, after all, when I've finished a book and have enjoyed the hell out of it. Sometimes you've enjoyed a book so much, that you just have send off an encouraging "thank you for being a creative, interesting writer" type of e-mail - hoping the whole time that you don't sound too gushy, or pushy, or stalkerish! :) I'm going to stay away from the negative aspect of listing names of the few authors that I've contacted that never wrote back - maybe they had millions of e-mails to slog through. (maybe they're just too snotty!....hahaLOL just kidding - or am I?)
Well - someone was just saved an epic e-mail tonight. I just vented out all my thoughts - this is good for another week or so! LOL I started out wanting to post about Suzanne McLeod's website and novels, and ended up posting about how the internet has exposed me to books I love, and how great it is when a writer takes the time to write a fan-girly elder back!
Happy Thursday everyone -
the weekend is on it's way. I have grand plans to lay around and read - which will translate to running around after toddlers and playing. I wouldn't trade that for anything though - as much as they exhaust me, I absolutely love being with the grandchildren. My heart swells, and I'm always so happy when they're around.